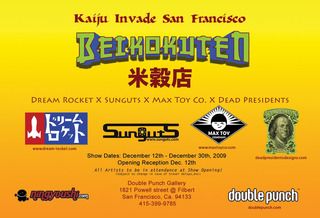 Ok, so maybe I didn't make it to the first show at Kaiju Blue last month, but damn it, I will make it to Beikokuten this weekend.

I was stupid and shrunk the card image down too much, but here are the relevant details:

BEIKOKUTEN by Max Toy Co.
feat. Dream Rocket, Max Toy Co., Sunguts and Dead Presidents
@ Double Punch, 1821 Powell St., San Francisco, CA 94133
Begins at 7 p.m., Saturday, 12/12 (runs until 12/30)
w/ 6 p.m. pre-show pinstriping demo by Dead Presidents and other stuff

Mark Nagata has been providing periodic updates via his blog. Looks like they are just about done setting up for the show! Just take a gander at all that Dream Rocket stuff.

So check it out this weekend if you are in the area. I will be the guy sitting on the sidewalk in front of the gallery at 2 p.m. Say hi, or shake me if I have gone unconscious from the cold.