I normally try to avoid the event and release postings these days, but I'm so excited to hear about these 2 events that I can't help myself.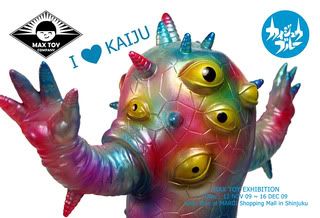 First, beginning on November 12th, there will be a Max Toy Exhibition at the Kaiju Blue gallery in the Marui One Shopping Mall in Shinjuku, Tokyo, Japan. There will be custom toys, including customs of Kaiju Tripus by notable Japanese toymakers and artists, as well as artwork and t-shirts for sale. As a special exclusive for this event, Mark Nagata has painted, numbered and signed a run of 8 Kaiju Eyezon toys (the one in the photo?). An unpainted pink Neo-Eyezon, the newest collaboration between Max Toy and Dream Rocket, will also be available.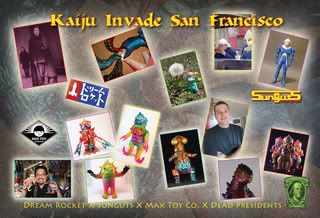 Second, December 12th will be the opening reception for Kaiju Invade San Francisco / Beikokuten, taking place at the Double Punch gallery (in SF). Along with Max Toy, this show will feature work by Dream Rocket (yay!), Sunguts and Matt Walker (aka, Dead Presidents). Artists will be in attendance, meaning that you actually have a chance to meet Mr. Yajima (Dream Rocket) and Mr. Ichimiya (Sunguts) WITHOUT buying a plane ticket to Japan. No other details available at this time, but you know, I'm sure there will be toys for sale... There usually are.

Oh, but the reason that I am excited is that I will actually be in Japan during the opening of the Kaiju Blue show, and back in the Bay Area for the Double Punch show. Crossing my fingers that I can actually make it to both!

All information and images found via Max Toy blog (http://www.maxtoyco.com/brain_content.htm). I hope Mark doesn't mind me re-posting them here.